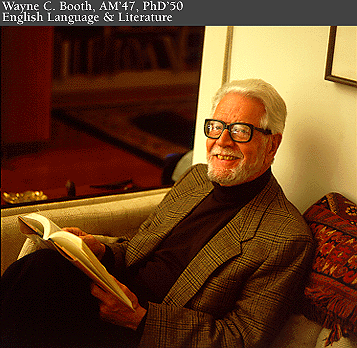 The observations Booth makes in the book are similar to those I have so often faced as a writer and a reader.
Wayne Booth's 1988 book The Company We Keep: An Ethics of Fiction covers too vast a territory to adequately summarise here, and his loquacious means of expression make highlighting his ideas via pithy quotes quite difficult. Further, the book addresses critics – and in particular, ethical criticism, rather than the authors themselves, but I will attempt to recap the major points that would seem to be most applicable to this argument.
Please note also that Booth returns often to Twain's 1884 novel Huckleberry Finn. Although he enjoyed the work as a whole, he was torn by recurrent racism in the text and the limited world presented by unreliable Huck. Much of the debate in the book, and therefore in the quotes below, revolved around this specific quandary.
Booth began by talking about censorship and the reasoning behind it - how texts are likely to influence our character (as readers) as we read them.
But the censors are likely to know, because of the way they themselves read, that literary parts can carry their own meaning and power quite independently of any correction an author may have built into the whole. (p 161)
Most overtly ethical critics have dwelt on whether a given narrative will work for good or ill in the life of other readers, after the last page has been turned …
But what happens if we begin instead with the qualities of experience sought or achieved by authors and readers during the time of the telling or listening? Instead of asking whether this book, poem, play, movie, or TV drama will turn me toward virtue or vice tomorrow, we now will ask what kind of company it offers me today. (p 169)
Booth introduces the idea of friendship as a metaphor for the relationship readers have with books.
The point in turning to the metaphor of friendship is not, of course, to revive this sort of extremely general talk about book-friends, as if all books were equally friendly, and friendly in the same way … What we need is a vocabulary of discrimination among kinds of friendship, and for that we are forced to return to an ancient tradition that made true friendship a primary goal of life, and the study of how to achieve it the center of all ethical inquiry… The quality of our lives was said to be in large part identical with the quality of the company we keep. Our happiness is found in a pursuit of friendship… (p 172).
Much of the text then sets about examining those types of friendships offered by books, and by authors. Booth concludes that:
The fullest friendships, the "friendships of virtue" that the tradition hails as best, are likely to be the works that the world has called classics… I meet in their authors friends who demonstrate their friendship not only in the range and depth and intensity of pleasure they offer, not only in the promise they fulfil of proving useful to me, but finally in the irresistible invitation they extend to live during these moments a richer and fuller life than I could manage on my own. (p 223)
One of the tenets of narratology is that narratives are fundamental to how we communicate to others, and also how we receive and process ideas internally. Booth claims we are all engaged in ethical criticism of the narratives we encounter continuously.
We cannot avoid choosing among them [narratives as friends], consciously or unconsciously; even those of us who do not read or watch TV… are offered innumerable stories each day, unless we have no human converse whatever, and just by living we choose some and reject others.
…We thus practice, willy-nilly, an ethical criticism regardless of our theories: we choose our friends and their gifts. (p 177)
Booth talks about stories as communication between parties to steer conduct and demonstrate the rules of a culture or society.
Each culture provides every member with an unlimited number of "natural" choices that seem to require no thought. Such intuitive choices tend to get articulated into gossip, which consists of a kind of free-wheeling narrative appraisal of people not present. Though we may not think of gossip as "ethical culture" – it is still fashionable to condemn it, in theory, as inherently immoral – the best gossip is wonderfully educational, an essential exchange that speaks to us learners messages like: "You should try not to be like that"; or "You should hope to be so brave!"; or "save us all from becoming such creatures!" (p 484)
Booth also expanded on how a writer as a communicator has a particular responsibility where the power relationship between the two parties is unequal in the writer's favour (which is always). He talks about the ethics – not only of technique, but of the themes and norms being addressed in the novel.
Here Booth talks about ethical deficiencies of the novel Huckleberry Finn (which he identifies as racial stereotypes, and the catering to chauvinism) being attributed to the character, Huck, rather than Twain, his creator. The first person narration allows the creator to get away with discourse throughout the novel that offends.
Dealing with any first-person narrative, we can explain away any fault, no matter how horrendous, if we assume in advance an author of unlimited wisdom, tact, and artistic skill. But such an assumption, by explaining everything, takes care of none of our more complex problems. If we do not pre-judge the case, the appeal to irony excuses only those faults the book invites us to see through, thus joining the author in his ironic transformations. Our main problems, not just with the ending, but with the most deeply embedded fixed norms of the book as a whole, remain unsolved. (p 470)
This brings me back to the very beginning, and the dilemma that sparked my academic pursuits. My character, Jenna-Belle, in Girl Next Door is a chauvinist, of sorts. I expected readers to absolve me of her flaws and to see the irony arising from the recognition that the character's views are not ones that I hold. I believed any failure to comprehend the irony to be an inadequate reading of the text. Not my fault.
Booth's text argues that the limitations of the unreliable narrator are not just a problem of technique, but more broadly an ethical problem for the writer and the reader.
Booth's text encouraged me to look for the qualities of friendship being offered to the audience of the novels I read, and the influence novels have, not only at their conclusion, but throughout the experience of reading it.
The Company We Keep provoked me to look at the quality of friendship that I am offering. And in all my novels to date, not just Girl Next Door, I have not been the friend I aspire to be.